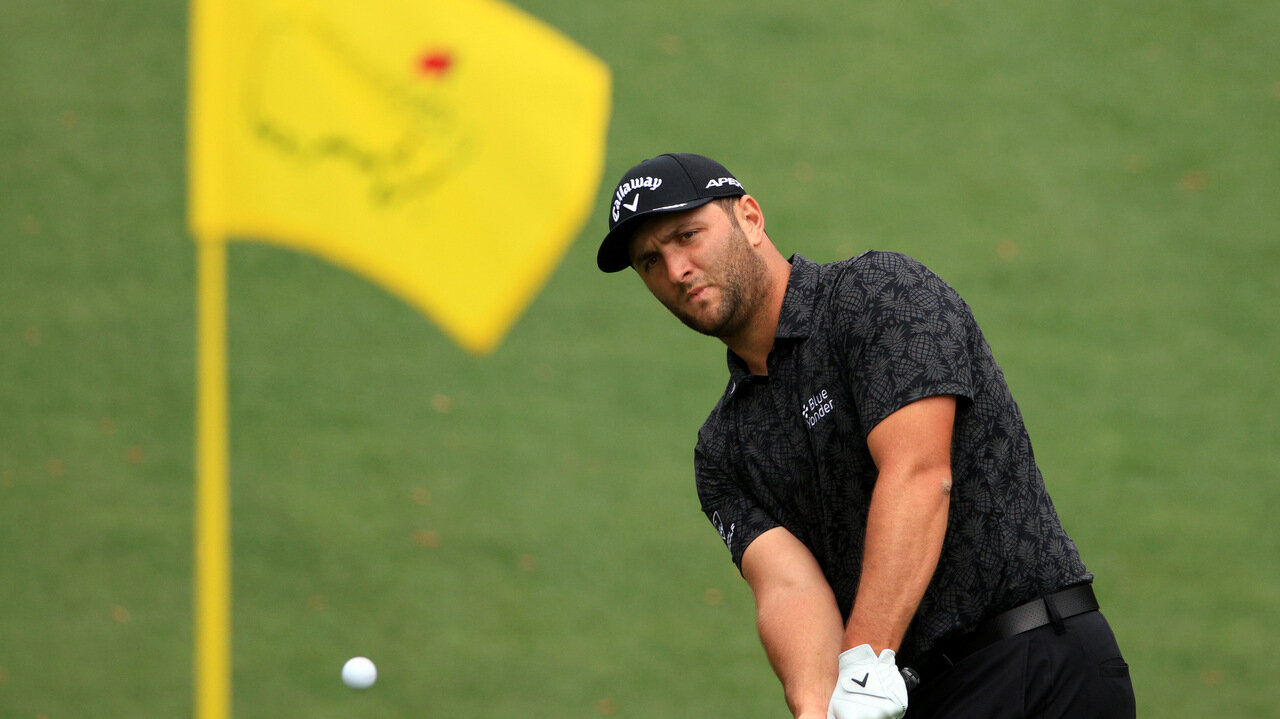 Who's got their eyes on a green jacket? Who's the best bet? Who has the best Augusta National form? Before striking your bets read Matt Cooper's guide to the leading players chasing Masters glory…
Jon Rahm
Masters record: 27-4-9-7-5
Did something click with the big Spaniard on the Thursday night at the 2018 tournament? Prior to then he'd failed to equal par on the course in four of his five career laps. And since then? 15 rounds, 11 of them were sub-par and none over-par. What will it take to transform that consistency into triumph? His long game remains imperious, but he's had his putting woes this year which bodes ill and it has cost him top spot in the world rankings. His threat in the majors is emphasised by his consistency: he not only won a first major last year, but finished top 10 in all four and actually has nine top 10s in his last 15 major starts.
Collin Morikawa
Masters record: 44-18
Two weeks ago the two-time major winner admitted that he'd been swayed by Augusta conventional wisdom. "Everyone says you have to play a draw there and you don't," he argued. "I tried it and it just forced me to hit shots I wasn't comfortable with. I didn't know my misses. I've got to stick to my strengths. Guys have hit cuts there and won. It's possible." To contend this week he will need to address his form. He did finish second in February's Genesis Invitational, but has ended his last two strokeplay starts outside the top 60 with his 2022 SG Approach stats down on his normally sensational standards.
Jordan Spieth
Masters record: 2-1-2-11-3-21-46-3
"I love it here," the 2015 champion gushed last April. "Whether I'm putting well, or even in tough putting years, the ball seems to find the hole here." That's a neat trick to possess but it is one that can be explained because time and again Spieth reminds us that his creativity is fuelled by quick and slopey putting surfaces. But his extraordinary record at Augusta is very far from being one-dimensional because he's twice topped the Greens in Regulation stats, including last year. He's had an up-and-down year, nearly winning the AT&T Pebble Beach Pro-am but also crashing out of THE PLAYERS Championship with a 79.
Justin Thomas
Masters record: 39-22-17-12-4-21
It seemed too neat and so it proved: after five visits that produced increasingly better returns, last year witnessed a halt to the progression. On the other hand, his performance did fit another persistent Thomas trend: one of getting on the first page of the leaderboard and then failing to press on for the win. He was tied sixth at halfway last year and since the start of the 2020/21 season he has been top six at the end of at least one of the first three rounds 17 times in 33 events, converting for the trophy just once. "I feel like wins are coming," he insisted last month. "Seeing a lot of great signs, I need to stay patient."
Rory McIlroy
Masters record: 20-MC-15-40-25-8-4-10-7-5-21-5-MC
It seems utterly absurd that it is 11 years since the Northern Irishman led the Masters by two at halfway, by four after 54 holes, but then, from the 10th tee, introduced the world to a part of the property never seen before or since, the prelude to a back nine collapse. Seven years later he played in the last group alongside Patrick Reed and never mustered a challenge. Last year he missed the cut for the first time in 11 years. His Augusta tale is one of endless frustration and he has a surprisingly poor record on the par-5s, getting into double figures under-par just three times in 13 visits. He insists that he's at peace with himself, but arrives off a missed cut in last week's Texas Open and the eight year major drought will not, of course, go unmentioned this week.
Dustin Johnson
Masters record: 30-38-38-13-MC-6-4-10-2-1-MC
The 37-year-old would not be the first Masters champion to struggle in defence of his title but then rebound with victory a year later. In fact, he'd be the 10th player to do just that if he ends the week in green again. His stats on defence were ugly: his equal worst Greens in Regulation numbers and worst Scrambling since his debut. He must surely improve on that? He can also start the week with some sort of growth in confidence because by making the semi-final stage of the WGC – Dell Match Play last time out he landed a first top five finish in 24 starts and he impressed in the manner he achieved it.
Scottie Scheffler
Masters record: 19-18
Since graduating from the second tier the Texas resident's ease in elite company has been a standout feature. He's 6-for-6 at landing top 20s in the majors through the last two years (with four top 10s); he was 3-for-3 at finishing top 15 in the World Golf Championship events last year; and he looked right at home on his Ryder Cup debut in September. The missing piece was a win and no sooner did he grab one, at the Phoenix Open in February, than he nabbed a second in the Arnold Palmer Invitational and then a third in the WGC – Dell Match Play. Excellent with approaches, sneaky good around the greens, vastly improved with the flat stick, red hot in form, the new World No. 1.
Cameron Smith
Masters record: 55-5-51-2-10
Always magnificent around the greens and very good on them, the Aussie has never approached them better than this season. It's a combination that shouts Augusta suitability and if his career-best golf can improve on an already fine record he's in with a great shout this week. In November 2020 he became the first golfer to card four rounds in the 60s at the tournament and he's gone sub-par in seven of his last 10 circuits there. He'll drive up Magnolia Lane high on confidence after victories in the Tournament of Champions and THE PLAYERS Championship. Can he become just the second Aussie green jacket winner?
Viktor Hovland
Masters record: 32-21
If you were putting together the ideal Masters candidate, Hovland's long-hitting, sensational approaches, fearless putting, capacity to bounce back from errors and love of winning (three this season already) would all earn ticks. But his short game? Crikey, hit the brakes: He doesn't even rank in the top 200 for SG Around the Greens and that weakness has hurt in his first two Augusta visits, completing less than one in three par saves from missed greens. It significantly hinders his chances and he's also still hunting both a first major championship top 10 and a taste of being in-contention with 18 holes to play.
Xander Schauffele
Masters record: 50-2-17-3
Following his runner-up finish behind Tiger Woods in 2019 the Olympic gold medallist said: "I'm not one bit sad. I just told my caddie that we proved we can win on this property." Bold words but this is a fellow who has never looked fazed in the majors, tucking away nine top 10 finishes in 18 appearances in them. That proves he knows how to hang around in the big ones. What about actually winning them? It's the next task and, in actual fact, has been something of an on-going problem in general. His last official PGA Tour win (the Tokyo triumph was unofficial) was over three years ago.
Brooks Koepka
Masters record: 33-21-11-2-7-MC
He told Golf Digest last summer: "In my mind, I'm going to catch (Tiger) on majors. I believe that. I'm 31. I have another 14 years left. If I win one a year, I got Jack (Nicklaus). People misconstrue that as cocky. No, that's just my belief." There's no doubting he's brilliant in the majors. He's landed 16 top 10s (three last year) in 30 of them and, of course, four were victories. His form is patchy but often is in regular events. However, he topped the Greens in Regulation stats at the Valspar Championship and made the last eight in the WGC Match Play. Is he ready to peak again when it really matters?
Bryson DeChambeau
Masters record: 21-38-29-34-46
There's no doubt that the big-hitter's course record is a ludicrous mismatch with his bold claims in 2020. "I'm looking at it as a par-67," he said, signalling his pratfall like an end-of-pier comic. By his own estimations he's broken par once (a 66 to share the first round lead in 2019). A bigger concern would be that in 14 of his 20 laps he hasn't broken the conventional par. Do Augusta regulations neuter him as much as the course? He admitted missing both green books and calibration tools last year. "An interesting challenge and I love it," he insisted unconvincingly. Injury has restricted him this year and he missed the cut last week in Texas.
Patrick Cantlay
Masters record: 47-MC-9-17-MC
One problem with hitting a superb stretch of form is that you either maintain those standards or you slip. When the American ended 2021 by winning both the BMW Championship and TOUR Championship, then shining in the Ryder Cup, he faced just that prospect. 2022 has been tougher with four top 10 finishes followed by three failures to make the top 25. At Augusta he briefly led on Sunday in 2019 and was only one back of the lead at halfway in 2020, but he's chasing a first top five. He attributes his two wins at Muirfield Village to a love of fast greens; in that respect Augusta should also suit.
Hideki Matsuyama
Masters record: 27-54-MC-5-7-11-19-32-13-1
Just three men have successfully defended their green jacket, not only struggling to defeat a tough test and elite field back-to-back, but also distracted by extra off-the-course responsibilities (including the Champions' Dinner menu). For Matsuyama that aspect may prove extra troublesome because he partially attributed his success 12 months ago to the diminished presence of Japanese media, who hover around him throughout any normal major week (and will return this week). His two most recent starts (THE PLAYERS and Texas Open) have resulted in withdrawals. He's a doubt to start.
Daniel Berger
Masters record: 10-27-32-MC
Since the start of 2020, shortly after ridding himself of injury niggles, the American has become relentless in his pursuit of solid finishes landing 31 top 30s in 40 strokeplay starts, nearly half of them (18) top 10s. There have been two wins among that consistency, but he also blew a five-shot 54-hole lead in March's Honda Classic and then got himself in a rules ruckus at THE PLAYERS. His Augusta results are progressing in the wrong direction, not helped by early troubles. He's never equalled, never mind bettered, par in round one (and only once before the weekend).
Paul Casey
Masters record: 6-MC-10-11-20-MC-38-MC-6-4-6-15-MC-38-26
Ahead of last year's event the Englishman both patted himself on the back and gave us a great insight into what is required at Augusta: "There's no question that the golf course suits my game. Fundamentally, I'm a very good ball striker. But then there's other subtleties: the off-camber lies, the slopes, steep angle of descent into the golf ball, good spin control. I'm not a great putter, but I'm a good touch putter, which very much assists round here." A first round leader in 2020 he'd be confident this week after third at THE PLAYERS, but back problems have forced withdrawals since then.
Tony Finau
Masters record: 10-5-38-10
Oh Tony. Pretty much everyone's favourite winner last year at The Northern Trust, coming after an agonising 12 top three finishes since his first triumph on the PGA Tour. But having landed 35 top 10s from the start of 2018 up to the win last August, he hasn't recorded one since. Three top 10s from four Masters starts is none too shabby, however, and he does have nine top 10s from his last 15 major championship starts. If only he had form you'd be tempted that his only failure to make the top 10 was when the tournament was delayed till November.
Will Zalatoris
Masters record: 2
For a brief period during last year's final round there was the real prospect of Zalatoris claiming the first debutant win at the Masters since 1979. He was mightily impressive that Sunday, setting a clubhouse target that only Matsuyama bettered and which Jordan Speith and Xander Schauffele, in a share of third, came two shots shy of. He also ended the week ranked second for Greens in Regulation. He's yet to win on the PGA Tour, but has added weight to his thin frame and with it extra yards. His short putting remains shaky however. Sometimes excruciatingly so.
Adam Scott
Masters record: 9-23-MC-33-27-27-25-MC-18-2-8-1-14-38-42-9-32-18-34-54
A brief glance at his tournament record shows that, after a bright start, he encountered difficulties. A few years ago he explained: "2010 was the turning point. I found a level of comfort on tees, into greens, and around the greens. I got my eye in with the golf course and it's shown up in results since, for sure." Within four years of that crossroads he was wearing a green jacket, although he has finished top 10 just once since then. He was disappointed by his major championship efforts in 2021 and said: "Next year my goal is to win tournaments and hopefully big ones."
Jason Day
Masters record: 2- WD-3-20-28-10-22-20-5-MC-MC
At his very best the Aussie is an outstanding fit for Augusta. He hits the ball a long way from the tee, high into greens, and is blessed with great touch on and around the putting surfaces. It enabled him to finish second on debut, third two years later and fifth in 2019. His last two visits have been a different story, however. Injury and form issues have taken a heavy toll and the result? He's failed to break 76 in each of his last three circuits. He contended at Torrey Pines and Pebble Beach on the West Coast Swing, but has struggled since and lost his mother to cancer last month.
Joaquin Niemann
Masters record: MC-40
The Chilean's first experience of the tournament came in 2018 when he was still in the amateur ranks and it was something of a shock. He missed nearly half the green with his approaches, saved par once in every third attempt and needed too many putts in carding 76-77. Last year he opened with a 75 and closed with a 76, but 71-70 in the middle suggested it's not a test beyond him. He enjoyed a brilliant start to the year with three top 10s that culminated with victory in the Genesis Invitational at Riviera, a course where five different Masters champions have tasted success this century.
Justin Rose
Masters record: 39-22-5-36-20-11-8-25-14-2-10-2-12-MC-23-7
The Englishman got off to an absolute flyer 12 months ago when his 7-under 65 left him fully four blows clear of the field and he hung around for a fifth tournament top 10. It was a reminder of how he loves to bloom on an Augusta Thursday. It was his second solo first round lead to sit alongside two shared advantages and another four top six positions from 16 starts. Oddly, he's never gone sub-70 in the second round. He was sixth in the Farmers Insurance Open, but has played just four times since, not breaking the top 60 in strokeplay or escaping the group stage of the WGC Match Play.
Louis Oosthuizen
Masters record: MC-MC-MC-2-MC-25-19-15-41-12-29-23-26
There's all sort of curiosities in the South African's Masters log book. For starters, his nearest brush with a win came with play-off defeat in 2012, having missed the cut in his first three visits – and doing so again the following year. Since then, he's always played the weekend and never looked like not doing so and yet, with the exception of a fast start in 2014 (second) and a shared halfway lead in 2019, he's never been close to contending. He finished tied second, second and tied third in 2021's last three majors. Is he simmering or were they his last chances of adding to his Open win in 2010?
Matthew Fitzpatrick
Masters record: MC-7-32-38-21-46-34
There can be no knocking the Yorkshireman's DP World Tour record (nine top two finishes, three of them wins, in his last 30 starts) or his PGA Tour form (four strokeplay top 10s from five starts in 2022), but his record in the majors cannot be graded anything other than underwhelming. A final round 67 landed him seventh here at the Masters on his pro debut, but another 22 starts on and he is still searching for a second top 10 in the sport's most important events. Specifically at Augusta he's had some horror starts, failing to break 74 in five of his seven first round efforts.
Sam Burns
Masters record: Debut
This time last year the 25-year-old from Louisiana sat just inside the top 100 in the world rankings and was perhaps best known for failing to win three tournaments early in the season when holding solo leads. He didn't let his head drop, earned the first win at the Valspar Championship in May, successfully defended that title last month and won the Sandersons Farms Championship in-between. His best golf has mostly come on Bermuda grass, but he nearly won at Riviera which is a good pointer for Augusta. Making a seventh major start he's seeking to land a first top 25.
Shane Lowry
Masters record: MC-MC-39-MC-25-21
At first glance the Irishman's record in Georgia is not great, but there are glimmers of hope. Three times he's got off to good starts (second in 2016, eighth last year, 12th in 2017) and it might be as well to heed what he said last year when the course conditions are established. "I've always wanted to play Augusta firm and fast with the putts getting away from you," he said. "I loved it." He also said last May: "I'm 34 now. When I get to the majors, I know what happens. You have tough runs and when you have the good runs you have to take advantage." He's in great form with six of his last seven strokeplay starts reaping top 15 finishes.
Sung-jae Im
Masters record: 2-MC
Rarely can a player's first two visits to Augusta have been so diverse in conditions and results as they were for the Korean in 2020 and 2021. On debut he experienced the one-off slow conditions of November, he scrambled well (67%), putted brilliantly (topping both traditional categories), was never outside the top six all week and finished second. Five months later it was firm, fast and unfathomable: all his stats dipped, he carded 77-80, and packed the bags on Friday night. He was a winner early in the season, but has just a best of T20th in his last five starts.
Tiger Woods
Masters record: 41-MC-1-8-18-5-1-1-15-22-1-3-2-2-6-4-4-40-4-17-32-1-38
Just 14 months ago he was in a car accident and for months after that in bed and then on crutches. It seemed preposterous to believe that he would tee it up on tour ever again. But he played in the PNC Championship before Christmas and, while clearly hurting physically, he was unquestionably filled with joy at the sight of his son Charlie knocking approaches stiff and draining the putts. Has the thought of teeing it up on the 25th anniversary of his 1997 win here driven his recovery? Whatever it was, the schmaltz will blow the roof off the Butler Cabin even if completing 18 holes on a tough walking course is all he achieves.
Marc Leishman
Masters record: MC-4-MC-MC-43-9-49-13-5
The Aussie was quick to appreciate the Augusta test, sharing the first round lead in his second start in 2013 and spending all week in the top five. He was second at halfway in 2018 and second after 54 holes last year. All good experience and he's also had front row seats for the success of others. "I played with Adam Scott the year he won and with Patrick Reed when he won (in the third round)," he said 12 months ago. "I've seen what you have to do. I know what you have to do." He opened the season with six top 20s in nine starts, but arrives off a run of three starts in which he made no impact.
Patrick Reed
Masters record: MC-22-49-MC-1-36-10-8
There's absolutely no doubt that old stats lack the insight of Strokes Gained, but all that notwithstanding get this. The sullied Captain America's first four Augusta visits lacked one top 20; his last four have reaped three including victory in 2018. And one notable difference? In the first four appearances his Putting Average was 1.96 and needed 31.07 putts per round; in the latter four those numbers were 1.56 and 27.25. His form is poor, however. Since finishing second in the Bermuda Championship he has no top 10 and just one top 20 in 12 starts.
Tommy Fleetwood
Masters record: MC-17-36-19-46
With two rounds of 66 in his locker (in 2018 and 2020), plus a lot of solid golf at other times, Fleetwood very nearly has a promising course record, not least because he's three times ranked top 12 for hitting the greens in regulation. But a best finish of T17th from five attempts is explained by a poor final round log book. He's played Sunday four times; the first three times he signed for a 74 and last year for a 76.
Tyrrell Hatton
Masters record: MC-44-56-MC-18
"This isn't a course I particularly feel that comfortable on," he confessed last year after a 71 had him in the first round top 10. He added that, although putting is a strength of his, that was not the case at Augusta. "I sort of hit it on the line I want to," he said. "But obviously I don't read them quite right." That 71 is the only time, in 10 attempts, that he's gone sub-73 ahead of the weekend. He's opened 2022 with seven top 30s, including four top 10s.
Abraham Ancer
Masters record: 13-26
Unlike Sung-jae Im, Ancer did not find the contrast between a Masters debut in November and a second start in April too overwhelming. That said, there is real volatility in his scores: just eight laps, four of them sub-70 and three 75+. He played the final round in 2020 alongside winner Dustin Johnson, landed a first win last summer, and reaching the last eight in the WGC – Match Play was a first top five since then.
Bubba Watson
Masters record: 20-42-38-1-50-1-38-37-MC-5-12-57-26
Signing his daughter up for the Drive, Chip & Putt, and standing behind 18 to welcome competitors in the Women's Amateur that precedes his week – Bubba loves his place in Augusta history and not just as a two-time winner. "I'm part of the club," he said last year. Is his competitiveness in the past or present? His two wins and only other top five came off red hot form. He started 2022 well, but has gone off the boil since.
Corey Conners
Masters record: MC-46-10-8
Through the last 18 months the Canadian has quietly been one of the most consistent performers in elite company. He's landed two top 10s at Augusta and added top 20s in last year's PLAYERS, PGA Championship and Open. In more recent time, he contended at both Bay Hill and Sawgrass (again) before finishing third in the WGC – Dell Match Play. Has hit a lot of greens (ranking 11th and third for GIR) in his last two course visits and recorded better Putting Averages than normal, too.
Sergio Garcia
Masters record: 38-40-MC-8-28-4-MC-46-MC-MC-38-45-35-12-8-MC-17-34-1-MC-MC-MC
Very quietly something important happened last year for the Spaniard. You'd think that 19th in the US Open (a result he repeated in the Open) would not be too significant for a player of his talents, yet it was a first major championship top 20 since he won the 2017 Masters and it broke a run of 13 failures to finish in the top 50 in them. He opened the year with 12th in Dubai, but he hasn't finished in the top 20 since.
Webb Simpson
Masters record: 44-MC-MC-28-29-MC-20-5-10-12
The injury he sustained shortly after last year's Masters disrupted the American's consistency and his year he's played little golf and made less impression (four starts, no top 30). Against that he has a good recent record at Augusta National. He's making more of his birdie chances, too. Through his first six starts he never once went sub-1.80 for Putting Average; in his last four he's always been sub-1.70.
Billy Horschel
Masters record: 37-MC-17-MC-56-38-50
The Florida man's 2014 TOUR Championship victory proved that he can win in elite company and his WGC – Dell Match Play triumph last year reiterated that. But his major record has been relentlessly poor. In fact, he has just one top 10 in 32 starts (and that was his first effort in the pro ranks). Incredibly, after 23 circuits of Augusta National, he is still to card a score in the 60s (14 times he ended the lap over-par).
Max Homa
Masters record: MC-MC
With victories at major championship-hosting venues Quail Hollow and Riviera, the 31-year-old has hinted that he might have the game to win a big title, but his first two visits to the Masters were tough ones. He opened with a 70 in 2020, but in three laps since hasn't broken 74. This is his 10th major start – he's seeking a first top 30 finish and just a third cut made.
Russell Henley
Masters record: MC-31-21-11-15
Fans of statistical absurdities will delight in the fact that Henley has contrived to lie 21st after 54 holes of each of his last three visits to the Masters – heaven knows what the chances of that are. The three-time PGA Tour winner has led or co-led four tournaments at the 54-hole stage in the last 18 months, most recently in the Sony Open at the start of the year, but hasn't been able to push on and convert the win.
Lucas Herbert
Masters record: debut
It may have been no coincidence that the 26-year-old Aussie landed his first PGA Tour victory (in last October's Bermuda Championship) after setting up an Orlando base for his ventures into America. Before then he had been unsettled, a feeling exaggerated by Covid travel difficulties in and out of Australia. The win earned him his first crack at Augusta and he'll be seeking a first major top 30 in his eighth start.
Brian Harman
Masters record: MC-44-12
Three left-handed golfers have recorded six Masters win between them in the 21st century, but conventional wisdom would argue that short-hitting Harman will struggle to join their ranks. He admits that before his debut he went looking for extra yards before reconciling himself to playing to his strengths. Twelve months ago that helped him to sit second after 18 and 36 holes before a pair of weekend 74s derailed his challenge.
Seamus Power
Masters record: debut
This time last year the Irishman was outside the world's top 400 and would surely have laughed at the notion of making a debut at Augusta. But a top 10 on the Korn Ferry Tour in late April kickstarted form that propelled him to a breakthrough PGA Tour win in July and he's never looked back, even making the final eight at last month's WGC – Dell Match Play. Not just his Masters debut but a first start in any major.
Talor Gooch
Masters record: debut
A fifth start in the majors for the 30-year-old debutant and he's still looking to break the top 30. In terms of form he's never been in a better place. He opened 2021/22 with four top 12 finishes, added a first PGA Tour win in the RSM Classic and he shared the 54-hole lead heading into the final round of the Arnold Palmer Invitational.
Gary Woodland
Masters record: 24-WD-26-MC-MC-MC-32-MC-40
For a major champion (he won the 2019 US Open at Pebble Beach), the 37-year-old's prolonged difficulties with Augusta National are something of a mystery. The two top 30s he ticked off in his first three visits actually featured top 10 positions after 18 holes, but he hasn't gone sub-70 since 2014. He has a particularly grizzly record in round two, with an average of 74.22. On the other hand, he did land back-to-back top fives on the Florida Swing.
Jason Kokrak
Masters record: MC-49
The tall Canadian-born American transformed himself from a perennial near-miss merchant into a win machine with four victories in 15 months from October 2020, but he's not made a top 10 this calendar year. He has a best major championship finish of 19th from 18 starts and at the Masters he has signed for three 71s and three scores in excess of 75 blows in his two visits.
Kevin Kisner
Masters record: 37-43-28-21-MC-MC
The South Carolina man is never shy of telling folk that he simply doesn't have the weapons from the tee to compete on long layouts so it's really no surprise that he has struggled at Augusta. What is most startling about his record is how astonishingly bad he has played in the second round. He carded a 72 on debut, but has never equalled, never mind bettered it, since. He averages 74.67 on Fridays.
Cameron Champ
Masters record: 19-26
In contrast to Kisner, Champ does possess big-hitting weaponry and he's used it to good effect in the Masters. He's three times carded 68 in his brief and promising course history, but a 74 in 2020 and a 77 last year held him back from delivering top 10s. A winner last July, but poor since and in a nasty run of form this season with only three cuts made in eight starts and a best of 46th.
Si Woo Kim
Masters record: MC-24-21-34-12
The Korean owns a quietly impressive Masters record, all achieved without standing out in any regard. In fact, he's only once ranked top 10 in any statistical category. Twelve months ago he was in the top 12 throughout the entire week and he warmed up for this year's edition with a strong showing last week in the Texas Open, his 10th made cut in a row (not counting a withdrawal at THE PLAYERS).
Danny Willett
Masters record: 38-1-MC-MC-MC-25-MC
The Yorkshireman was widely viewed as a surprise winner of the green jacket in 2016 and yet he had been consistently performing to a very high level in the majors and WGC events. Since then, however, he has struggled in those events but has landed the BMW PGA Championship and DP World Tour Championship – a reminder that he's not afraid of winning in elite company. Won the Dunhill Links in October but no top 20 since.
Source: BETFAIR GOLF