8:55 AM ET
The last few weeks of the 2021-22 NHL season have had all the drama of a foregone conclusion.
The Eastern Conference playoff field has been set since, oh I don't know, Halloween 2021. The eight playoff teams aren't jockeying for position as much as they're letting the chips fall where they may and hoping not to lose any vital players to injury before the real season starts.
The Western Conference has an actual playoff race between the Vegas Golden Knights and schadenfreude, with the Vancouver Canucks attempting a last-second surge. Otherwise, the West is set, and has been for some time.
This is the part of the "Shark Tank" pitch where the inventor says, "It doesn't have to be this way!"
After adding Vegas and Seattle in the last five years, the NHL now has 32 teams. Half of them do not qualify for the playoffs. That is abjectly preposterous, and deleterious to growing the game.
Here's what the NHL postseason should look like, going forward:
20 teams, 10 from each conference
Start with a play-in round, featuring the No. 7-10 seeds, adopting the NBA's efficient and fair format
After the play-in round, the undeniably perfect 16-team battle of attrition known as the Stanley Cup playoffs
OK, almost perfect: Reorganize the final four teams by regular-season record, foregoing geographic designations in lieu of potential rivalry matchups for the Cup
Be happy
Print money
Let's go
At a time when the other three major sports leagues are expanding their postseason fields through additional teams or play-in games, the NHL has only expanded the number of teams whose seasons end after Game No. 82. It's leaving money on the table. It's muting late-season drama. It's stubbornly refusing to push more teams and star players into the center-stage spotlight of the Stanley Cup playoffs, when the NHL is at its apex for attention from the general public.
Because there's nothing the NHL does better than to market the Stanley Cup playoffs. Case in point:
[embedded content]
Seriously, how great was that commercial?
Shouldn't we want more teams invited to the postseason party?
The NFL did, so it expanded its playoff field to 14 teams in 2020. The NBA did, so it created its NBA play-in tournament for its 7th-through-10th seeds starting in the 2020-21 season, which immediately paid dividends with a game between the Los Angeles Lakers and the Golden State Warriors. Major League Baseball did, too: While its owners wanted to move from a 10-team playoff field to 14 teams in their latest collective bargaining agreement, MLB instead expanded to a 12-team field.
Is the NHL swimming against the current when it comes to playoff expansion?
"I don't think we are," deputy commissioner Bill Daly told me over email. "With the exception of the NBA, I would say MLB and NFL are swimming to us. Just sayin'."
1hTim Kavanagh
8mSachin Chandan
2dKristen Shilton and Greg Wyshynski
2 Related
Daly's essential point here is correct: The NHL has allowed more of its teams to qualify for the postseason than either football or baseball since expanding its field to 16 teams in 1979-80, when four franchises from the World Hockey Association were absorbed. From that point through the addition of the San Jose Sharks in 1991-92, 16 out of 21 teams would qualify for the Stanley Cup playoffs.
Was the regular-season devalued back then? Perhaps. That's a lot of playoff teams. But outside of the trade deadline having, like, one seller every season, I don't recall too many complaints about 76% of teams qualifying for the playoffs. That's just how it was.
Whenever I debate people on the topic of NHL playoff expansion, "that's just how it is" tends to be the most popular counterargument.
The New York Islanders and Columbus Blue Jackets in the East and the Vegas Golden Knights and Vancouver Canucks in the West would all be postseason teams in this expanded format. Making the argument that a .500 team like the Blue Jackets is deserving of such an honor is difficult, but only because having a 16-team playoff field is "just how it is."
But the Blue Jackets "don't belong" because of the accepted structural norms; and when those norms shift to expand the playoffs, guess what? They're a playoff team, and no one will care. We're two seasons into the NBA's play-in tournament, and fans aren't protesting Adam Silver's office because the San Antonio Spurs (.415 winning percentage) were in a qualification round game.
No, those fans are mostly like, "Cool, more playoff basketball."
It wouldn't be a bad thing for the NHL to have an extra game to showcase a young star like Columbus winger Patrik Laine. Ben Jackson/NHLI via Getty Images
Other frequent counterarguments about expanding the NHL playoffs:
"Expanding the playoff field means less drama, not more of it." I think this has some merit, depending on the season. We're not as engaged with the Golden Knights' life-or-death playoff struggle if they're already guaranteed at least a spot in a play-in series. That said, we would have probably been more engaged with Jack Eichel's old team, the Buffalo Sabres, whose second-half surge could have been for a playoff berth rather than good vibes for the summer.
"Boiling down an entire regular season into one game isn't fair." There's always been an odd collision between personal responsibility and the concept of "fairness" in professional sports. Like when players on losing teams start punching opponents in the face because their team was playing hard during a blowout and "smiling," which is obviously an affront to humanity. Boo-hoo. Maybe don't put yourself in an embarrassing situation if you don't want to be embarrassed.
Same deal applies to the one-and-done nature of a play-in game. If you feel like it's unfair to the Nos. 7 and 8 seeds that they have to still earn the right to enter the 16-team tournament by playing elimination games against "unworthy" teams, allow me to offer this subtle counterargument:
FINISH IN THE TOP SIX!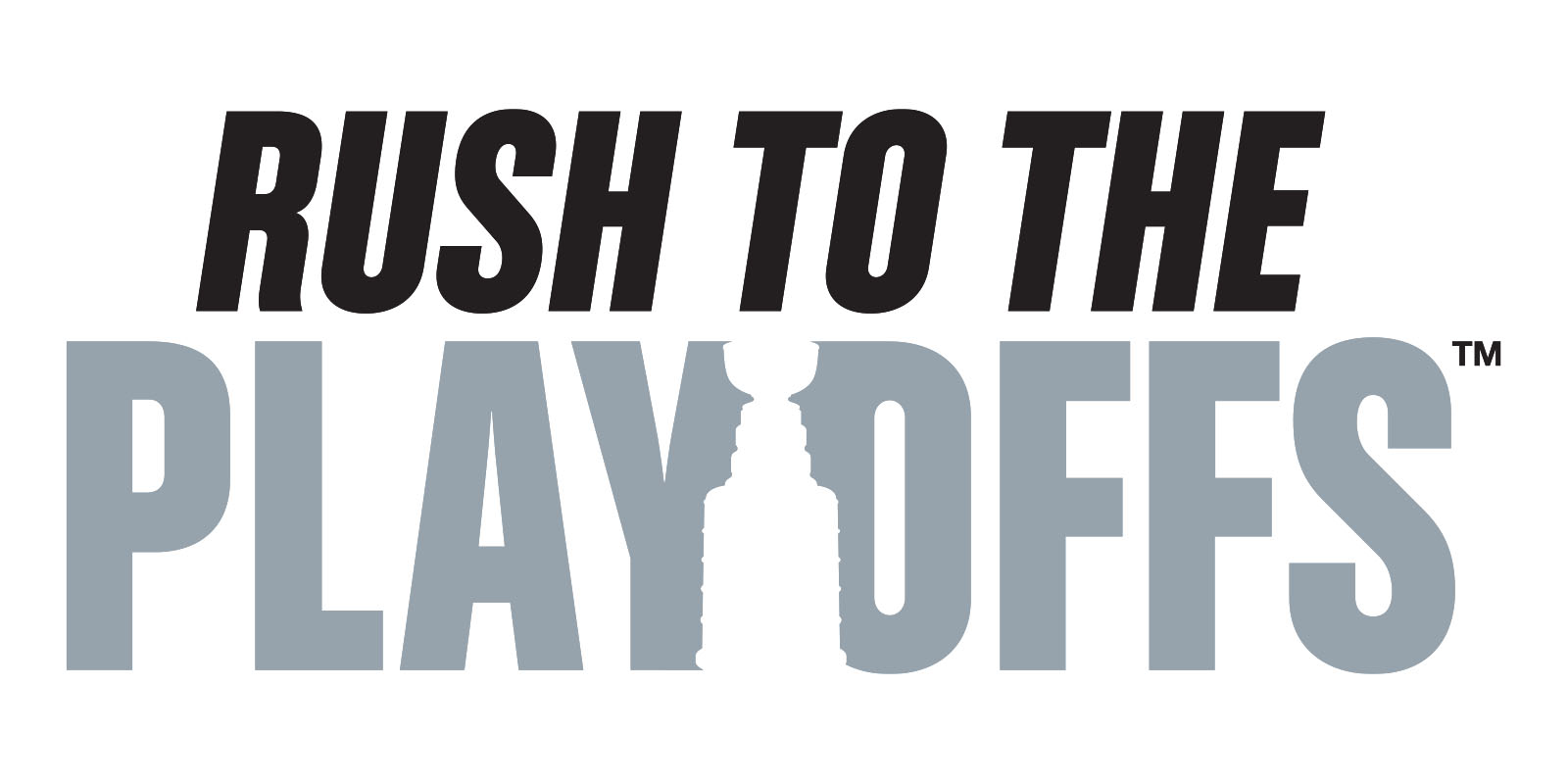 The 2021-22 NHL season is winding down towards the final day on April 29. Catch all the playoff races live on ESPN, ESPN+, ABC and Hulu.
• How to watch
• Subscribe to ESPN+
• Stream the NHL on ESPN
Play-in elimination games are, frankly, awesome. They're like skipping right to a Game 7. As one media executive told me, "They would be fantastic for television," and there's no disputing that.
"For drawing interest for the playoffs, there's nothing better than play-in games," agreed one NHL executive.
But listen, I understand there is going to be apprehension from teams about seeing their entire season wiped away with a single loss, in a sport where one bad bounce from a frozen rubber thing on an ice surface can be the difference between victory and defeat. Which is why, just like with jersey advertising and postgame fashion heat checks, the NHL should follow the trail the NBA has blazed for them.
For those who don't know, the NBA uses what's commonly called the Page-McIntyre system for its play-in games. It's a double-elimination format that's been adopted everywhere from rugby to cricket to League of Legends tournaments.
Essentially, the NBA sought to protect its No. 7 and 8 seeds by giving them two chances to qualify for the 16-team playoff tournament, despite being in the "play-in" round. The No. 7 and 8 seeds face each other, with the winner becoming the No. 7 seed. The loser of that game plays the winner of the No. 9 seed vs. 10 seed game, with the No. 8 seed on the line.
I realize every season is different and there are no guarantees that every play-in tournament will produce a banger like Lakers vs. Warriors. That said, if the playoffs started this week and the NHL had the NBA's format this season, the Pittsburgh Penguins and Washington Capitals would play in the No. 7 vs. No. 8 game; and then the NHL would then get either Sidney Crosby or Alex Ovechkin in an advance-or-die game against either the Islanders or the Blue Jackets.
I am concerned with the break between the end of the regular season and the start the 16-team tournament for the higher seeds. What can be a few days of well-needed rest can easily become rust. In the NBA, the last regular-season games were on April 10. The play-in games were done by April 15. The regular postseason tournament started April 16. There's probably a day in there to shave off; and if you wanted to give top seeds an extra benefit, have the No. 8 seed play the No. 1 seed the night after their qualifier.
But other than that, this format — 20 teams, NBA-style play-in tournament — is a slice of fried gold. As is the entire concept of NHL playoff expansion.
The NHL expanded its playoff field for the COVID-impacted 2020 postseason, which allowed teams like the Blackhawks into the mix. Jeff Vinnick/Getty Images
So why isn't this happening?
I've spoken to Board of Governors members in the last several years that want it — admittedly, I've also spoken to some that don't. In a 2018 survey, The Athletic found the vast majority of general managers favored playoff expansion a.k.a. something that could keep them in a job for another season. So there is palpable interest in expanding the playoffs, but there isn't palpable momentum, even with the league expanding to 32 teams recently.
I asked Daly if there had been any relevant discussion of expanding the playoff field after the NHL held its COVID-impacted, 24-team "bubble" postseason, which was the first time the league had qualification-round games.
"No," was his brief response.
I asked some sources around the NHLPA if there had been any serious discussion about playoff expansion in the last round of collective bargaining with the NHL in 2020.
They believed there hadn't been.
All of this tracks back to one reason, or rather, one person: Commissioner Gary Bettman.
One of the most underappreciated parts of Bettman's nearly 30 years with the NHL is his penchant for tradition. For all the non-traditional aspects during his tenure — expansion to warmer climates, 3-on-3 overtimes — Bettman's NHL has also been a place where fighting hasn't been legislated out of the game, the Original Six have been placed on a pedestal and the Stanley Cup playoff field hasn't been expanded, save for one pandemic season.
Why doesn't the topic come up at board meetings? Because once you hear "no" for the dozenth time, you tend to stop asking. Why wasn't it a part of the CBA talks? Because the players knew what kinds of concession they'd have to make to move Bettman off of something from which he refuses to move.
"Gary is never going to change on playoff expansion," said one executive.
Make picks throughout the postseason for a chance at $14,000 in prizes. Make Your Picks
I wish he would. Comparing the logical arguments for and against expanding the Stanley Cup playoffs is like comparing Kilimanjaro to an anthill. But rather than try to win a debate with Gary Bettman, let's try a different line of reasoning.
Money. Sweet, sweet, hockey-related revenue.
It can be compelling. For example, Bettman never wanted to pause the NHL regular season for the Olympics, at one point lobbying the IOC to move hockey to the Summer Olympics instead. When it became apparent there was little to no financial benefit from participation, the NHL kept its players home from the South Korea Games and made future participation as a bargaining chip in CBA negotiations with the players.
But when it comes to the World Cup of Hockey, whose revenues are directly fed into the NHL's coffers, there's no issue in pausing the regular season in February 2024 for that tournament.
That windfall was enough for Bettman to do something he didn't necessarily want to do. Perhaps the same can happen with playoff expansion.
Through two seasons, the NBA is building a convincing case for proof of concept. The first two days of NBA play-in games averaged 2.4 million viewers. It brought in huge money at the gate and additional ad revenue, including a title sponsor. According to Broadcasting and Cable, last year's NBA play-in tournament "attracted ad revenues of $60.4 million."
The NHL is aware of these numbers, of course. It knows the potential for an expanded playoff. It's just going to take the man in charge to decide that the revenue, the exposure and the spreading of playoff excitement to "unworthy" teams is worth bending on tradition for a qualification round.
Bending, but not breaking. The 16-team tournament would remain untouched; the path to hockey's Holy Grail would become even more arduous; and 38% of the NHL would still fail to qualify for the postseason, but would be more engaged in playoff races for longer in the regular season.
The Stanley Cup playoffs are the best thing in professional sports. Expanding them makes the best thing even better.

Jersey Foul of the week
From The Pond:
Saw this on a Facebook group. I dunno what @wyshynski thinks, but I think this must be the biggest and most offensive #JerseyFoul of all time. pic.twitter.com/RxXPapYlij
— Daemon Chadeau (@DaemonChadeau) April 18, 2022
Look, Los Angeles Kings Hall of Famer Marcel Dionne is a California hockey icon. He was out of the league by the time Anaheim received an NHL expansion franchise. Yet to wear the name and number of an L.A. star on an Anaheim sweater is a special kind of Jersey Foul blasphemy. Worst of all, this is Sonny Milano (No. 12 for the current Ducks) erasure!
Video of the week
Confirmed: Shea Theodore loooooooves overtime ? pic.twitter.com/u5ygd8VVD0
— Vegas Golden Knights (@GoldenKnights) April 21, 2022
If Shea Theodore doesn't score this overtime game-winning goal against the Washington Capitals on Wednesday night, the Vegas Golden Knights are cooked. Turn out the lights, pack up the tents. As it stands, they still have only a 25% chance of making the postseason per FiveThirtyEight, but that's still a shot.
Of course, imagine what that shot would look like if they hadn't made Andrew Hammond look like Dominik Hasek on Monday night against the New Jersey Devils …
It's still a tension convention for the Golden Knights. Nothing illustrates that more than Pete DeBoer's handling of Robin Lehner against the Capitals:
Here is Pete DeBoer's full answer on the decision to start Robin Lehner and then pull him after a period. pic.twitter.com/1ZlRUFUE3O
— Ben Gotz (@BenSGotz) April 21, 2022
Hey, a coach alienating a goalie in Vegas. Never seen that before …
The Western Conference playoff race has taken a turn in the last week. The Los Angeles Kings — who needed the power of prayer and Jonathan Quick playing like it was 2012 again to defeat the Blue Jackets and Ducks — have a better probability for making the playoffs (86%) than do the Dallas Stars (84%).
The Stars are in Calgary on Thursday night. They finish with four games at home after that, including a de facto playoff game against Vegas on Tuesday. By my math, they have a game in hand on Vegas with a two-point lead in the standings. I'm not entirely convinced they're going to hold them off.
If the Stars can't hold off the Knights, that means Vegas will have surged to make the playoffs in the final wild-card seed. Which would mean they'd earn a date with the Colorado Avalanche, whom they eliminated in six games a year ago.
Now that would be fun.
Winners and losers of the week
Winner: Alex Ovechkin
He remains controversial off the ice, but Ovechkin made history on the ice this week. He scored goal No. 50 against Vegas, reaching that milestone for the ninth time in his career and tying Wayne Gretzky and Mike Bossy for the most 50-goal seasons in NHL history. It's OK to still be infuriated that Ovechkin's politics have created such a caveat to these achievements.
Loser: Current Capitals jerseys
Washington is reportedly reviving its "Screaming Eagle" logo on a black jersey next season as part of the NHL's "Reverse Retro" series. They're going to be dope — and are going to put the current sweater designs to shame.
Winner: Igor Shesterkin
Remember when the Rangers' goalie had, like, five average games and people were taking him out of Hart Trophy consideration? He had a .954 save percentage in his past six games, with three shutouts. To paraphrase the great John Wick: Yeah, I'm thinking he's back.
Loser: Frederik Andersen
Prayers up for the Carolina Hurricanes goalie, who was having his finest NHL season and was primed for what could end up being a long playoff run. He suffered a leg injury against the Avalanche on Saturday. Coach Rod Brind'Amour called it "a big concern." Hopefully he'll be ready for the postseason, because this Hurricanes team has a shot.
Winner: Wichita
The Arizona Coyotes and St. Louis Blues will play the first-ever NHL game in Wichita, Kansas, on Sept. 24. That's awesome. We need more NHL games in odd places. Even if it's the exhibition season, it's still hockey. Give a taste to more middle-sized markets with no major pro sports teams.
Loser: Recollection
The NHLPA released the independent review of its response in late 2010 and early 2011 to reports that Kyle Beach was sexually abused by a Chicago Blackhawks coach. The report exonerated NHLPA chief Don Fehr, saying "we cannot identify any individual wrongdoing or institutional failures of policy or procedure by either Fehr [or] NHLPA personnel."
But it's hard to get past moments like the 14-minute phone call in April 2011 between Fehr and agent Joe Resnick, who had emailed Fehr to discuss a Blackhawks player who was seeing a therapist because of Brad Aldrich. Both deny having any recollection of the call — one of too many "I do not recall" moments in the report.
Puck headlines
How hockey is gaining a foothold in Mexico. According to the Mexico Ice Hockey Federation, 1,600 junior players participate in the sport. "We want to bring hockey to Mexico, but we also want them to embrace it themselves and put their own little twist on it, their own little culture on it."
What went into the decision to name Digit Murphy as president of the Metropolitan Riveters, which cost the team its GM and communications head?
"I'm a transgender player in a women's hockey league. And that's exactly where I belong."
The Detroit Red Wings parted ways with Zamboni driver and franchise icon Al Sobotka last month. Now we know why: Sobotka filed a lawsuit against the team claiming he was discriminated against on the basis of his age (68) and disability after a co-worker saw him urinating in a drain near the ice resurfacing machines. Sobotka's suit claims he has benign prostatic hypertrophy, which causes a frequent and uncontrollable need to urinate.
Jokerit, which left the KHL after Russia's invasion of Ukraine, plans to return to the Finnish Liiga in the 2023-24 season.
Good piece by Mark Lazerus on the use of anti-gay language in hockey. "People trying to make themselves seem tougher or something like that. But you're not going to change somebody by yelling at him. You're going to change someone by explaining."
Dryden McKay, the Minnesota State goaltender who won this year's Hobey Baker Award, explains why he accepted a six-month ban from competition for an anti-doping rule violation, according to the United States Anti-Doping Agency.
A woodpecker is damaging the world's largest hockey stick in Duncan, B.C. Please don't give Brad Marchand any ideas …
From your friends at ESPN
In case you missed it, our story on the offensive boom in the NHL this season and theories as to why it's happening.
Source: ESPN NHL